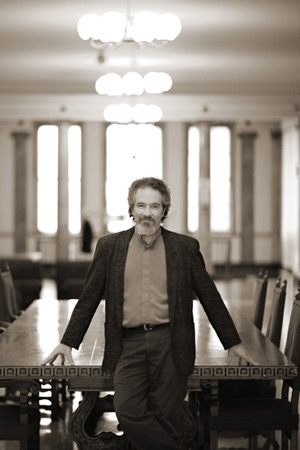 Glenn McClure is a composer and Arts Integration Consultant.  He currently serves as an adjunct faculty member at the Eastman School of Music and at SUNY Geneseo. His compositions have enjoyed a wide audience in the US (St. Olaf College, Florida State University, Auburn University, San Diego State University, the American Choral Directors Association Conventions in San Antonio, Texas and Orlando, Florida, and the Nat'l Kodaly Conference in San Antonio). Some of America's finest conductors have championed his music (including Dr. Andre Thomas, Dr. Anton Armstrong, Dr. Paul Smith, Dr. Anthony Leach, Dr. Brady Allred, Francisco Nuñez and Dr. Janet Galvan).  Mr. McClure's acclaimed "Kyrie" from St. Francis in the Americas: A Caribbean Mass has returned to Carnegie Hall in New York City for three performances. His work has also gained audiences in Mexico, Italy, Poland, Germany, and the Czech Republic.  Mr. McClure's work was featured by the St. Olaf Choir at the culminating concert of the World Symposium of Choral Music.  His oratorio, "The Starry Messenger" was featured on National Public Radio's "All Things Considered."
Mr. McClure's main compositional interest lies in the mixing of classical music with ethnic music traditions. His work is published by Earthsongs (www.earthsongsmus.com) and Roger Dean Publishers (www.lorenz.com). His choral works, written for mixed choir, Treble Choir, Men's Choir, soloists and children's voices, use many languages including Vietnamese, Lakota, and Nahuatl. He is very interested in the use of non-traditional languages and music styles from many world cultures. He is experienced in dealing not only with the technical aspects of non European languages, but also in the ethnomusicological concerns involved in writing works that include traditional musicians.
Mr. McClure is a two-time recipient of the prestigious Continental Harmony Commission by the American Composers Forum. These commissions, like many of his musical compositions, have been born out of community initiatives and collaborations.  He often works with a variety of community organizations to mold and shape his music into genuine expressions of the goals, interests and hopes of the communities from which they emerge. Furthermore, Mr. McClure used artistic activities to build bridges between diverse populations.  Two current international projects include "Galileo's Universe" (students, artists, educators in the US Italy and Germany explore the artistic influences on Galileo's scientific work), and "Retelling the Story: From Slavery to Freedom."  This program allows participants in the US, England, and Ghana to share their perspectives on their shared history of the Atlantic Slave Trade.  His world music opera, "Imoinda", combines the creative efforts of artists and students in the US, Europe, and West Africa to retell an early slave story. His leadership has helped to establish numerous projects that place the Arts in service of community needs.
Mr. McClure is also a passionate advocate for the integration of the Arts into the education of children. He offers 300-400 concerts and workshops annually that animate a variety of areas of learning with hands-on musical activities.  His award winning work in designing and implementing these programs in both mainstream and special education environments has gained the attention of numerous grants and foundations. He has developed customized arts integration programs that have served multiple schools for up to 10 years. These programs reach out to both mainstream students and special needs students in rural, urban, and suburban environments.   In addition to arts based curriculum, his programs also use video conferencing and web based applications to link students and teachers with the counterparts around the world.
Mr. McClure lives with his wife and two children in Geneseo, New York.
Resume Highlights
State University of New York at Geneseo adjunct faculty (School of Education)
Eastman School of Music adjunct faculty (University of Rochester)
President and Founder of McClure Productions, Inc. and the McClure Artist Guild (Apprenticeship program for Teaching Artists)
Composer and Arts Integration Consultant
President of the Association of Teaching Artists
New York State Alliance for Arts Education- Board of Directors
Partners for Arts Education-Advisory Board
New York State Council on the Arts/Empire State Partnership Program-Field Research Panelist
American Composers Forum- National Panelist for Community Based Arts Initiatives
New York State Department of Education, Summer School of the Arts Choral Studies Faculty (4 years)
Selected Arts Partnership/Consulting Projects
New York State Council on the Arts/Empire State Partnership- Designer/Trainer of ArtPeace Academy within the Rochester City School District, Rochester, NY.  This new arts/technology based academy pairs academic teachers and teaching artists in the classroom everyday.

New York State Council on the Arts/Empire State Partnership- Designer/Trainer of K-12 program at Watkins Glen School District.  Mr. McClure now directs a program that he has been building for 10 years in this rural school district

New York State Council on the Arts/Empire State Partnerships- Teaching Artist in the Holland Elementary School (rural), Lawrence Middle School (suburban), and the Bennett Park Elementary School, Buffalo City School District (Urban-Children's Opera).

Mt. Morris Central School- Teaching Artist and Development Consultant for their Middle School Arts Integration program for 11 years.

Bronx Arts Council- Arts and Education Technical Assistant to Teaching Artists in the Bronx.

"Galileo's Universe" This arts integration project, founded with the support of Dava Sobel (author of the 1999 bestseller "Galileo's Daughter") is now in its second year. The project engages schools in the US and Italy creating new works of art that explore the life of this famous scientist. This project is driven by partnerships between schools, universities, civic governments, and corporate institutions.

"The Cosmic Gumbo Café" This arts-based nutrition program is in its pilot year with an urban and rural school programs throughout New York State.
Selected Commissions, Awards, and Publications
American Composers Forum- Continental Harmony Project Carlisle, PA, "Make a New World" for chorus and multi-ethnic ensemble.

American Composers Forum- Continental Harmony Project Geneseo, NY and Siena, Italy, "The Starry Messenger: An Oratorio based on the Letters of Galileo's Daughter," for choir, soprano and baritone soloists, and orchestra (current project)

Lakota Song Cycle- South Dakota State Arts Council Artist Collaboration with Native American Poet, Jerome Kills Small, for choir, percussion and traditional Lakota singers.

Nazareth College Choir, under the direction of Dr. Zeigler, "Teotihuacán: Where Gods are Born," for choir, percussion and steel drums.  This piece was written in Nahuatl, the language of the ancient Aztecs.

NYSCA Empire State Partnership program with the Bennet Park School and MUSE in Buffalo, NY "Galileino," An Opera based on the family of Galileo

Warren Symphony, Warren, Michigan-"St. Francis at Greccio: A Caribbean Christmas Mass," for choir, orchestra, and steel drum band.

SUNY Geneseo Chamber Singers under the direction of Dr. Gerard Floriano, "Dante and Ulysses" for choir and percussion. Premiered by Dr. Andre Thomas of Florida State University.

Recipient of the Harvard-Radcliffe Award for Teacher Innovation

Journal Article for New York Foundation for the Arts Web Journal.
Selected National Performances
Carnegie Hall, NYC 2000, 2003, 2006-National Youth Choir (Dr. Anton Armstrong)

Orchestra Hall, World Symposium of Choral Music, Minneapolis 2002 (Dr. Anton Armstrong)

Lincoln Center/Alice Tully Hall- Young Peoples Choir of NYC-Cantan Los Niños

Brigham Young University Hawaii, 2003 (Dr. James Smith)

St. Olaf College 2003

American Choral Directors Association-National Conference, San Antonio, 2001

National Kodaly Conference, San Antonio 2002

World Symposium of Choral Music, Minneapolis 2002

New Jersey All State Festival 2006

Texas All State Festival 2005

Nassau County (NY) All County Women's Choir 2002

New York University 2003 (Dir. Francisco Nuñez)

University of South Dakota, 2004
International Performances
Sicily, Florence, and Siena, Italy

Mexico City, Mexico

Nachod (Camerata Nova Festival), and Pribram (Dvorak Festival), Czech Republic

Berlin, Frankfurt, and Dusseldorf, Germany
Publishers
Video Credits
Great Courses on Tape-Francis of Assisi, The Teaching Company, Springfield, VA 2000
Dreams of Equality, National Parks Department, 1992
Waste to Riches, Clean Water Action, SE Washington, DC 1988
Emily Dickinson, PBS Visions Series, New York, NY 1987